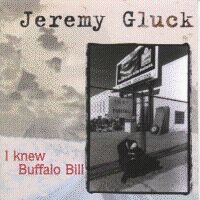 jeremy gluck nikki sudden epic soundtracks
rowland s howard
jeffrey lee pierce
---
news I Knew Buffalo Bill to be released Europe-wide on GOLD CIRCLE.
I Knew Buffalo Bill is to be released in June on new European meta-indie GOLD CIRCLE with full distribution and promotional support.
episode in a town (Real Audio 330k)
I Knew Buffalo Bill is the long-awaited reissue on CD of the first "cult supergroup" CD. Featuring Jeremy Gluck and friends, comprising material recorded in 1986 and 1988, originally released on Flicknife Records as I Knew Buffalo Bill (1987) and Burning Skulls Rise (1988), and adding previously unreleased material, this critically-acclaimed work features a unique collaboration between Jeremy Gluck (Barracudas), Nikki Sudden (Swell Maps, Jacobites), Epic Soundtracks (Swell Maps, Crime and the City Solution, These Immortal Souls), Rowland S Howard (Birthday Party, These Immortal Souls) and Jeffrey Lee Pierce (Gun Club). Produced by Tony Cohen (Nick Cave), I Knew Buffalo Bill has already been acclaimed by MOJO as "strange and sometimes wonderful", a testament to its intuitive, spontaneous creation that saw Jeremy called to the studio at short notice late in 1987 as Nikki was completing a collaboration with Rowland S Howard. Using songs written together over several years, the album was recorded essentially by instinct, with some tracks composed in the studio - Time Undone, for example - and benefiting from a remarkable chemistry that no amount of forethought could ever have produced. Nikki's Gallery Wharf, one of his greatest songs, is unique to Buffalo Bill, and Looking For A Place To Fall, featuring Rowland's mangled spaghetti western licks (and which led him to comment that he and Nikki were giving Jeremy "all our best songs"!) are both remarkable for their depth and intensity, whereas the epic All My Secrets - the story of a lost soul's drift through the West and time - is still difficult to describe, rejoicing in Pierce's mournful slide. A year later and Nikki and Jeremy reconvened to record a more purely "alt. country" album (ten years before the term came into use), featuring shorter, sharper meditations on the great 60s Sun country artists - Sorrow Drive, Episode In A Town - and the headsick Burning Skulls Rise, later covered by Rowland and Lydia Lunch on Shotgun Wedding. After the Burning Skull Rise EP, Jeremy absented himself from music for the most part, concentrating on writing, screenwriting and three young children. A fated meeting late in 1997 with Richard Porter of Direct Distribution led to the re-release on CD, a decade after its original debut, of a CD combining all the original Flicknife material plus added bonus tracks in the same vein, and a renewed interest by Jeremy -long-suppressed and/or sidetracked - in music, his first, greatest love. Forming a new band, Semi-Truth, around the nucleus of Richard's London unit Alcohol, a single has already been recorded with an album to follow. Meanwhile, Jeremy has made his acting debut and continues his explorations into words, their uses and their limits with numerous maverick projects. I Knew Buffalo Bill could only happen once, and Jeremy has no intention of trying to recreate it, but its spirit lives on in Semi-Truth, whose Pixies vs. Atari Teenage Riot attack and weirdness would flatter teenagers. The first cult supergroup, alt. country ten years ahead of its time, the living, the dead, the undying...Buffalo Bill rides again.
i knew buffalo bill is available now on the new Diesel Motor Records, MotorCD101.
Enquiries to Direct Distribution, (0171) 281 3465 (UK).
i knew buffalo bill - one more story
buffalo bill's last words - selected lyrics
Epic Soundtracks Memorial Page
Buffalo Bill Historical Centre
Official Nikki Sudden & The Jacobites Pages
Nikki Sudden und die Jacobites
Nick Cave Collector's Hell featuring Rowland S Howard discography
site concept and design copyright jeremy s gluck 1998.