in memoriam
Epic Soundtracks -- the pioneering drummer and keyboardist of the band Swell Maps whose influence was palpable among American rockers such as Dinosaur Jr's J Mascis and Sonic Youth -- was found dead in his London apartment on Nov. 22, 1997. Soundtracks was 37.
Epic Soundtracks was part of These Immortal Souls, an on again-off again band lead by former Birthday Party member Rowland S. Howard.
A funeral for Soundtracks was held in his hometown of Leamington Spa, England, on Monday, Dec. 1.
There was an Epic Soundtracks tribute gig on Saturday, 10th of January, 1998 at The Garage, 20-22 Highbury Corner, London N5.
---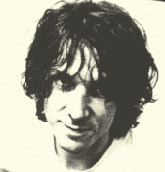 When Epic Soundtracks, whose playing is so much a highlight of i knew buffalo bill, died at his home in west London it was a profound shock to all of us who had known and loved him as a beautiful and eminently gifted man and artist. It was my great privilege to perform at the concert staged in his memory in January; my fellow former Barracuda Robin Wills and I performed an early Barracudas song, I Want My Woody Back, and I sang Brian Wilson's Til I Die. One of my abiding memories of Epic is an afternoon I spent with him in 1994 when we both enthused over Brian Wilson's work, and when Epic dubbed me then-rare bootlegs of the Smile sessions. Some days after I learned of Epic's death, I composed the following poem in his memory. It is my conviction that death is not the end, and indeed during a meditation shortly after his death, when I reached out to him through the ethers. I felt Epic's presence very strongly. Epic is still with us and, as he will always be, still loved by all those blessed to have known and/or worked with him.
---

Laughing Time by Jeremy S Gluck
(for Epic Soundtracks)
I slept one hundred hours
I worked one thousand years
Sleep in peace, dear child of God
Laughing time, preferring to send its messages by night
Watches over us as the pain of living commuted to space without ending
Disappears into the Light unbending
You, like the rest of us
Only tired
Looking for the answers we become lost
And lose even the will to question
And laughing time, in all its narcissistic glory
Looks askance and makes obscene faces at our trials
Dead pages turn, and words faded but legible
Suggest paths out of this damnable vice
To push so hard and split the screws
Drilling through our minds
So sleep sweetly, dear child of God
There are no answers
The wise men explain it I suppose
But to me the mystery is why I am still
The same wrecked ship on the same blind reef
After six hundred voyages
I am still against the wind
And bent with cold
I'm not even old, I feel young
I feel old, I've never been young
When I was a child I was old
And now I just want to be a child...
i knew buffalo bill is available on the new Diesel Motor Records label.
---
Epic Soundtracks Pages
Epic Soundtracks
Big Apple Graveyard
i knew buffalo bill - one more story